Bisley® Tambour Door Cabinets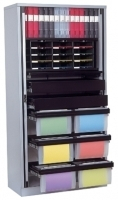 Bisley® Tambour Cabinets
Organize in One Compact Spot.
Secure your files and supplies in these well built, heavy gauge steel cabinets. HIPAA-compliant tambour doors protect your hanging files, binders, media, and supplies with a two-point locking system and magnetic catch. The doors slide into the cabinet's side walls to save floor space. With four cabinet heights and many interior fittings to choose from, you can tailor the cabinets to fit your needs.
Customize with Interior Fittings.
Whether you need a high density file system or a simple storage solution for stationery, the versatile fitments will organize it all. The fitments can be adjusted in one inch increments to accommodate files and supplies of all sizes. Configure the cabinets with Shelves, Roll-Out Drawers, Slotted Shelves, Roll-Out Suspension File Frames, Lateral Filing Rails and Roll-Out Work Surfaces.

• Available in four heights: 40" and 78" in stock and ready to ship. 65" and 87" available by special order.

• Available in Light Gray or Black. Other colors available by special order.

Browse by Subcategory: